Wedding Wednesday: Mr. & Mrs. Sornberger
This fairytale wedding is truly out of a storybook. From the gorgeous burgundy, pink and gold color scheme, to the beautiful flower crowns - this romantic outdoor wedding has us swooning! Surrounded by their family and friends, (human and four-legged) Courtney and Andy Sornberger wed on June 3, 2017 in Rochester, MN. We recently had the pleasure of speaking with Mrs. Sornberger and got an inside scoop on her special day.
HOW WE MET:
My husband, Andy, and I met on Match.com. I was SUPER skeptical of online dating. I don't like going out to bars and found it very difficult to meet someone. My husband is very shy when he meets people so going up to a gal in a bar was definitely not going to happen! We spoke through texting for a couple weeks and finally met for our first coffee date. The coffee date went so well we continued out to dinner.
THE PROPOSAL:
On our one year anniversary, Andy planned a special weekend in Minneapolis for us. We went out to dinner at a fancy steakhouse and then headed out to a "surprise". The surprise ended up being a horse-drawn carriage ride around Nicollet Island. I had a feeling a proposal was on it's way so I kept my left hand out of my glove and above the blanket the whole 30 minutes in the freezing Minnesota winter! Sure enough toward the end of the night, Andy proposed and of course I said yes.
PLANNING THE BIG DAY:
The planning process started the day after the proposal. I knew I wanted to get married at the beautiful Plummer House Mansion here in Rochester, MN and the venue books up quickly for an assortment of events and dinners. Venue, photographer and a wedding planner were the first check marks off the list. Luckily, I had 15 months to plan the wedding and reception.
My husband was extremely helpful through the planning process between coming to every single tasting, walk through and appointment. He even built the beautiful cedar cross at the front of our ceremony.
Thank goodness for Etsy! We were married outside in the Plummer House gardens so I really wanted a rustic, organic and garden feel to the wedding from the invitations to the reception decor. I worked with amazing gals I found through Etsy to help me with this considering I am not super crafty myself.
All of my vendors really made the process so easy. To me, a wedding is FLOWERS. Flowers everywhere. My florist was Jessica with Le Jardin. My sister had Jessica for floral for her wedding the year previous and I didn't even look at another florist. I knew Jessica would be able to bring my vision to reality and she definitely did!
SAYING "I DO":
The day of the wedding was crazy! It started with realizing the house had no air conditioning for getting ready (over 90 degrees!) and the ups and downs of "Yes, it's going to rain" and "No, the rain will miss us." Spoiler: it rained!
A surprise for my groom was a boudoir shot done during the day! After all, your wedding day is supposed to be the day you feel the most beautiful and I knew I would definitely need the glam for the confidence to pose on the motorcycle in lingerie! I was SO scared that it would be so awkward and embarrassing, but it ended up being fun and the "little black book" gift for Andy will be something I know he will love and hopefully keep hidden away.
My absolute favorite part of the day was getting my wedding day gift and letter from Andy. I am a bawl-bag and I knew there was no way I would be able to make it through the letter. My brother, Kenny delivered my gift from Andy and read the letter aloud. The letter was so sweet and straight from the heart. I just nearly lost it when I was handed the 2nd part of my gift a red rose. Anyone who knows me, knows that I am obsessed with my TV shows, The Bachelor being one of my favorites. Andy ended his letter by asking if I will accept his final rose. As silly as he thinks my shows are, I know he loves me and knew how much that gesture would mean to me.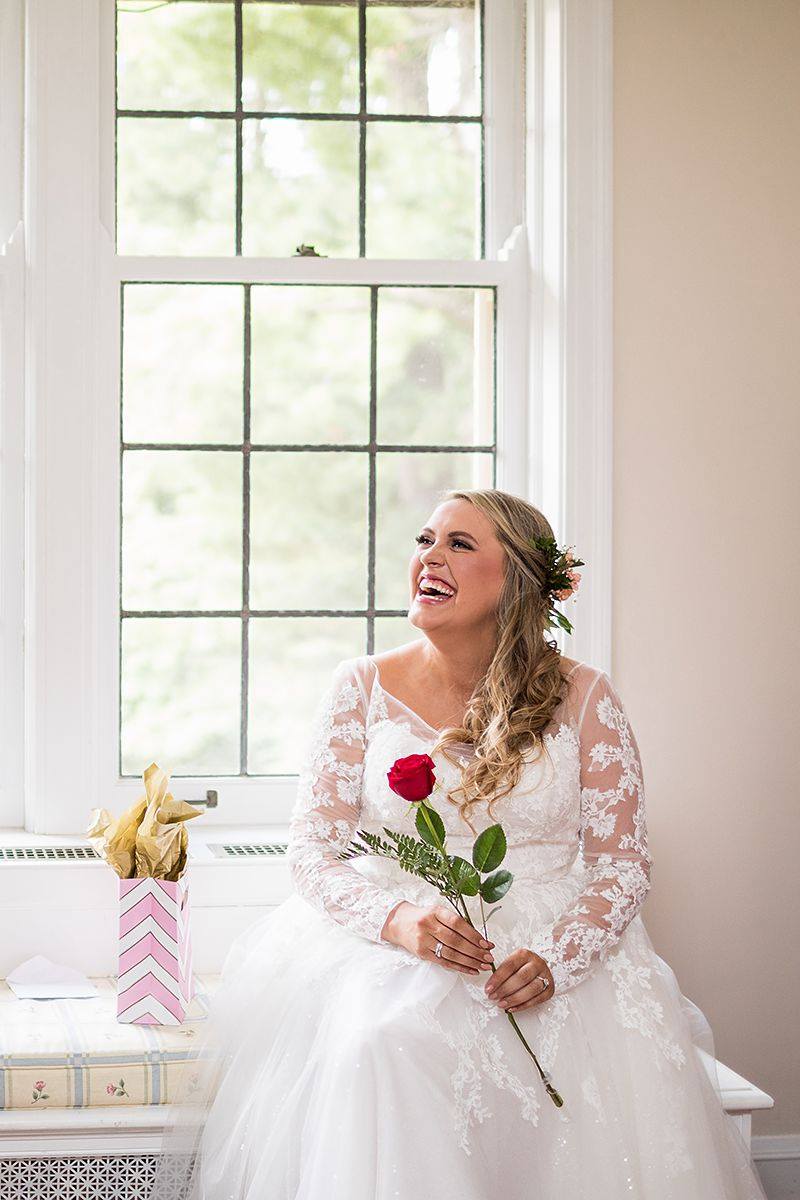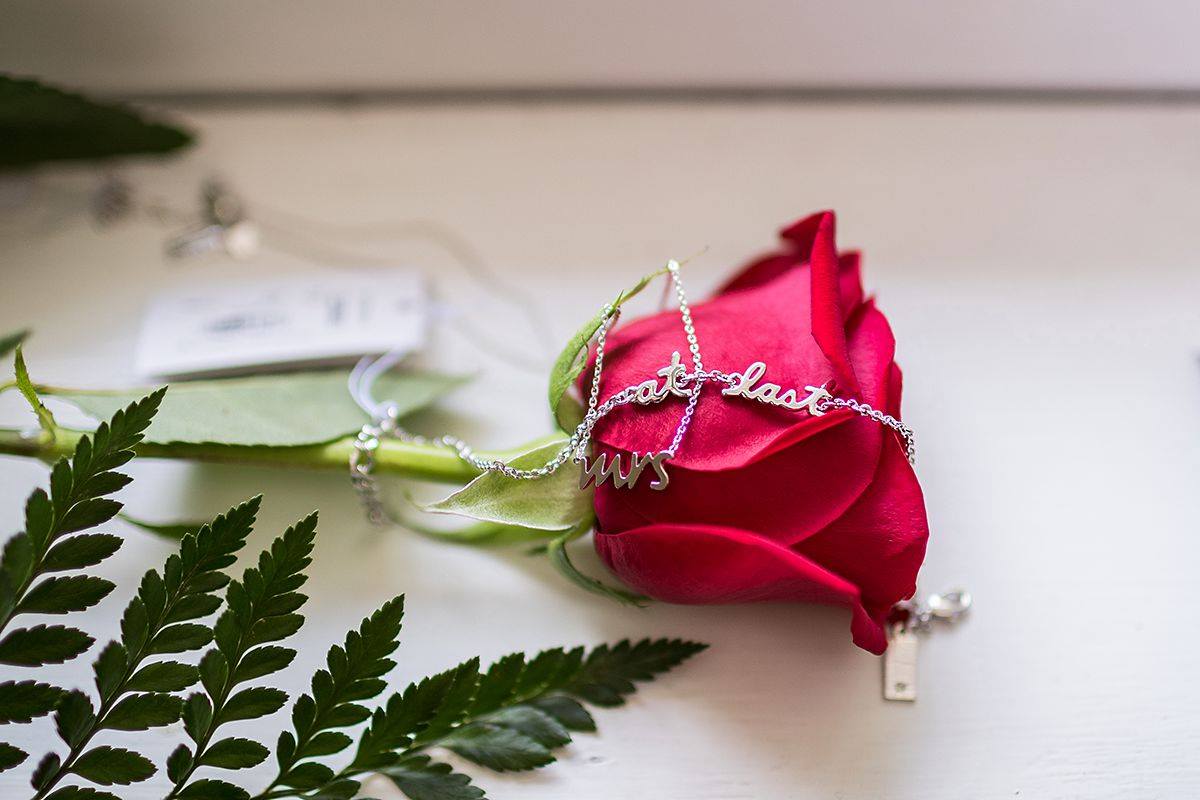 "Anyone who knows me, knows that I am obsessed with my TV shows, The Bachelor being one of my favorites. Andy ended his letter by asking if I will accept his final rose."
FUR-FRIENDLY WEDDING:
Our puppy dogs are our life! We love our babies! Bear was mine from before meeting Andy and he is a total Momma's boy. It took a little while to warm up to his Dad but he loves him now too. Stella is our French Bulldog. She is a little monster but we love her.
I could not imagine our big day without having our entire family there which of course means having our fur children there as our ring bearer and flower girl! Jessica, with Le Jardin decorated their collars and leashes in greenery and our ushers walked our terribly behaved children down the aisle. While I didn't get to see their march down the aisle, Andy reports they did great and got lots of laughs and smiles from our guests. Stella sat perfectly in her little gated pen with Andy's family and my Dad held Bear for the ceremony.
Bear and Stella greeted all our guests during the receiving line! I am not sure who got more attention, the bride and groom or the pups! Having our dogs with us made the day complete and I think added quite the personal touch.
A WORD OF ADVICE:
My advice to future brides is to work with great vendors! Find vendors, you trust and share your vision. There is no point to telling a future bride, don't worry because anxiety just comes with the wedding planning, but great vendors help! Great vendors email back quickly, meet with you much more than needed because they know and understand how much it helps to yet again go over how many centerpieces you need for the 12th time or do that 3rd makeup trial at 9pm at night (thank you, thank you Katie) just to make sure your wedding day glam will be perfect.